Tyre Club is here for you. Buying tyres is one of the most important decision
a motorist has to make in the course of his/her driving-life. We always remind our customers
that the tyre is the most critical point of contact between the car and the road.
In 2016 here in Zimbabwe, ZRP was worried about fatal accidents as a result of tyre bursts.
Assistant Commissioner Charamba attributed these tyre bursts to using second-hand tyre which
did not conform to technical standards (regrooved), high temperatures, overloading and
speeding.
Therefore, what to consider when buying new tyres must be your business. Aspects like date of
manufacture, grip, tread, rolling resistance, wear, tyre speed and load rating should be carefully
considered because they significantly affect the overall handling and performance of your car.
Here are some of the key factors to consider when buying tyres:
The right tyre size for your car
Know the right tyre size for your car.
All the information relating to your tyre size and specifications as well as appropriate pressure
can be found in your vehicle owner's manual in the glove compartment or on the tyre
information sticker on your driver's side door, driver's side door jamb, glove box door and gas
tank hatch as indicated in the figure below.
Age of tyre
The age of a tyre is important, don't shy away to inspect the
date of manufacture whenever you buy new tyres. The
rule of thumb is do not fit tyres that are more than five
years from the date of manufacture. The compounds in
a tyre begins to deteriorate after this time and the tyre
will be less flexible and more prone to cracking and heat
failure. At Tyre Club we discourage motorist from buying second-hand tyres, no matter
how cheap, cheap in this regard is very expensive. In
most cases second-hand tyres would have gone past
their useful lives.
Keep 5 years in mind
After 5 years or more in use, your tyres should be thoroughly inspected at least once every year
by a professional, we provide this service at our Tyre Club workshops.
10 years is a maximum
If the tyres have not been replaced in 10 years after their date of manufacture, as a precaution,
tyre manufacturers recommends replacing them with new tyres. Even if they appear to be in
usable condition and have not worn down to the tread wear indicator. This applies to spare
tyres as well.
Tyre speed rating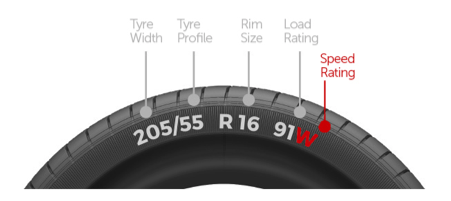 The speed rating tells you the speed the tyre can
safely maintain over time. Depending with your
usual average speed, knowing the tyre speed rating can
help in you having a better control and handling at
higher speeds. You wouldn't want to travel at
110km/hr with a tyre rated 90km/hr as the maximum
speed. Tyre Club always recommends you
to drive within stipulated speed limits, it's good for you,
it's good for your family members. As a general rule,
tyres with higher speed ratings also handle better at slower speeds. Example of speed rating
chart is indicated below.
.
TYRE SIZE                SPEED RATING       MAXIMUM SPEED
205/55R16 (91W)     W                                 270 Km/hr
175/65R14 (92H)      H                                  210 Km/hr
Fuel economy
Fuel economy can be a major factor for some tyre
consumers. If you are considering buying a tyre that
can assist in your vehicle's fuel economy, know that
not all tyres are made alike. Purchasing a tyre that is
different than the one you had when the vehicle
was new may impact the fuel economy, for good or bad.
According to Bill VandeWater at Bridgestone Firestone
North America, "consumers can see a 15% to 20%
difference in their fuel economy depending on the tyre they select. According to VandeWater,
"If a consumer wants a good fuel economy tyre, the best choice is usually the original
equipment tyres" Simply put, Original Equipment (or OE) tyres are the tyres that a vehicle was
originally equipped with from the factory. To find out more about tyre speed ratings, see our comprehensive tyre speed ratings guide.
We hope you found this article useful.
If any or part of this article was not clear for you to interpret, we are just a call away. Contact
us. When you are ready for new tyres, you stand to benefit if you visit Tyre Club shops or
search on our online shop for great tyre deals. We call it BUYING TYRES
FROM TYRE PEOPLE.
At Tyre Club we sell tyres for all vehicles and have over 30 brands to choose from,
both premium and budget brands at affordable prices. We offer tyre fitment services such as
tyre repairs, fitting, rotating, wheel balancing, 3D alignment and suspension.
Our tyres come with warranties that verify their longevity. We deliver tyres anywhere in
Zimbabwe, we also have a country-wide network of Fitment Partners to help you fit your
tyres at your nearest reputable fitment centre.
Visit us today to buy the tyres you need for improved performance and safety, or Contact Us.
Sources:
https://www.bridgestonetire.com/tread-and-trend/drivers-ed/what-is-the-tire-size-for-my-car
https://www.michelinman.com/howLongTireLast.html
https://www.herald.co.zw/tyre-burst-induced-crashes-worry-police/" />