Your tyre's sidewall contains all the information about your tyre that you'll need. Here's a little guide to what all those numbers and letters mean: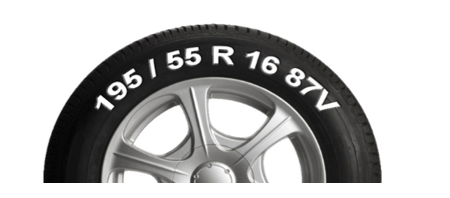 The letter in tyre size designation indicates the type of tyre-in this case R stands for Radial Construction.
Over 98% of passenger tyres sold today are radial tyres. Other construction symbols include:
D – (Diagonal) for bias ply tyres.
RF – Radial Run Flat tyres
ZR – Ultra- high performance tyres where Z in the speed rating (over 240km/h) and R indicates radial construction.
| Sidewall Marking | Explanation |
| --- | --- |
| * | Original Tyres For BMW & Mini |
| A | Original Tyres For Toyota (Auris) |
| A0 | Original Tyres For Audi |
| AR | Original Tyres For Alpha Romeo |
| AZ | Original Tyres For Alpha Romeo |
| BSL | Black Serrated Letters |
| BSW | Black Sidewall |
| CZ | Original Tyres For Subaru |
| DSST | Dunlop Self Supporting Technology (Run Flat Technology) |
| EMT | Extended Mobility Technology (Run Flat Technology) – Goodyear |
| EXL | Extra Load |
| FO | Original Tyres For Ford |
| FR | Flange Rim Protection |
| G | Original Tyres For Volkswagen (Golf) |
| J | Original Tyres For Jaguar |
| LRO | Original Tyres For Land Rover |
| M&S | Mud & Snow |
| M&T | Mud & Terrain |
| M+S | Mud & Snow |
| M+T | Mud & Terrain |
| MFS | Maximum Flange Shield |
| MO | Original Tyres For Mercedes |
| MO1 | Original Tyres For Mercedes (AMG) |
| MOE | Run Flat Technology – Mercedes Benz |
| N0 | Original Tyres For Porsche, First Approved |
| N1 | Original Tyres For Porsche, Second Approved |
| N2 | Original Tyres For Porsche, Third Approved |
| N3 | Original Tyres For Porsche, Fourth Approved |
| N4 | Original Tyres For Porsche, Fifth Approved |
| N5 | Original Tyres For Porsche, Sixth Approved |
| N6 | Original Tyres For Porsche, Seventh Approved |
| ORWL | Outlined Raised White Lettering |
| OWL | Outline White Lettering |
| R0 | Original Tyres For Audi (Quattro & S) |
| R01 | Original Tyres For Audi |
| REINF | Reinforced |
| RF | Reinforced |
| RFD | Reinforced |
| RFT | Run Flat Technology – Pirelli, Firestone & Bridgestone |
| ROF | Run On Flat – Goodyear |
| RWL | Raised White Lettering |
| SL | Standard Load |
| SSR | Self-Supporting Run Flat (Run Flat Technology) – Continental |
| TL | Tubeless Tyre |
| TT | Tube-Type Tyre |
| VO | Original Tyres For Volkswagen (Touraeg) |
| VSB | Vertical Serrated Band |
| WSW | White Sidewall |
| XL | Extra Load |
| ZP | Zero Pressure (Run Flat Technology) – Michelin |