The term load index, or loud range. is used to identify a given size tyre with its load and inflation limits when used in a specific type of service. The load index of a tyre and proper inflation pressure determines how much of a load the tyre can carry safely.
A letter identifies the load index for most light trucks. These letters being B, C, or D. A tyre with a B load rate is restricted to a load specified at 32 psi. Where a greater load-carrying ability is required, load rate C or D tyres are used.
Passenger vehicle tyres come with a service description added to the end of the tyre size. These service descriptions contain a number, which is the load index, and a letter, which indicates the speed rating. The load index (Fig. 1) represents the maximum load each tyre is designed to support
Maximum Load and Pressure Index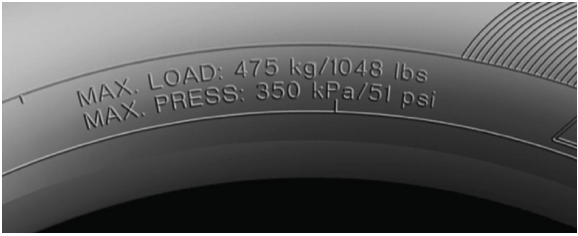 The maximum load that can be carried on the tyre and the maximum inflation pressure is clearly indicated on the tyre sidewall. Never exceed the maximum pressure indicated.
The date a tyre was made is indicated as a 4-digit number in a block on the sidewall. The first two numbers indicate the week of manufacture and the second two the year of manufacture.
Do not use tyres on a vehicle that are more five years from the date of manufacture (check the sidewall markings to ascertain this exact date). The compounds in a tyre begin to deteriorate after this time and the tyre will be less flexible and more prone to cracking and heat failure. Manufacturers claim that a tyre older than five years would need replacement as the rubber loses its suppleness through the drying out of moisture and oils

There are various quality markings on tyre sidewall. Most tyre manufacturers get their tyres tested and certified to meet or exceed stringent criteria of various international quality standards bodies on a range of specific performance characteristics.
The certification is a guarantee that the tyre will meet the superior performance handling and safety requirements.
Some of the international certifications are indicated above.
Fig 1. The load rating index table is below
| Load Index | Load (kg) | Load Index | Load (kg) | Load Index | Load (kg) |
| --- | --- | --- | --- | --- | --- |
| 0 | 45 | 50 | 190 | 100 | 800 |
| 1 | 46 | 51 | 195 | 101 | 825 |
| 2 | 48 | 52 | 200 | 102 | 850 |
| 3 | 49 | 53 | 206 | 103 | 875 |
| 4 | 50 | 54 | 212 | 104 | 900 |
| 5 | 52 | 55 | 218 | 105 | 925 |
| 6 | 53 | 56 | 224 | 106 | 950 |
| 7 | 54 | 57 | 230 | 107 | 975 |
| 8 | 56 | 58 | 236 | 108 | 1000 |
| 9 | 58 | 59 | 243 | 109 | 1030 |
| 10 | 60 | 60 | 250 | 110 | 1060 |
| 11 | 62 | 61 | 257 | 111 | 1090 |
| 12 | 63 | 62 | 265 | 112 | 1120 |
| 13 | 65 | 63 | 272 | 113 | 1150 |
| 14 | 67 | 64 | 280 | 114 | 1180 |
| 15 | 69 | 65 | 290 | 115 | 1215 |
| 16 | 71 | 66 | 290 | 116 | 1250 |
| 17 | 73 | 67 | 307 | 117 | 1285 |
| 18 | 75 | 68 | 315 | 118 | 1320 |
| 19 | 78 | 69 | 325 | 119 | 1360 |
| 20 | 80 | 70 | 335 | 120 | 1400 |
| 21 | 83 | 71 | 345 | 121 | 1450 |
| 22 | 85 | 72 | 355 | 122 | 1500 |
| 23 | 88 | 73 | 365 | 123 | 1550 |
| 24 | 90 | 74 | 375 | 124 | 1600 |
| 25 | 93 | 75 | 386 | 125 | 1650 |
| 26 | 95 | 76 | 400 | 126 | 1700 |
| 27 | 98 | 77 | 412 | 127 | 1750 |
| 28 | 100 | 78 | 425 | 128 | 1800 |
| 29 | 103 | 79 | 437 | 129 | 1850 |
| 30 | 106 | 80 | 450 | 130 | 1900 |
| 31 | 109 | 81 | 462 | 131 | 1945 |
| 32 | 112 | 82 | 475 | 132 | 2000 |
| 33 | 115 | 83 | 487 | 133 | 2060 |
| 34 | 118 | 84 | 500 | 134 | 2120 |
| 35 | 121 | 85 | 515 | 135 | 2180 |
| 36 | 125 | 86 | 530 | 136 | 2240 |
| 37 | 128 | 87 | 545 | 137 | 2300 |
| 38 | 132 | 88 | 560 | 138 | 2360 |
| 39 | 136 | 89 | 580 | 139 | 2430 |
| 40 | 140 | 90 | 600 | 140 | 2500 |
| 41 | 145 | 91 | 615 | 141 | 2575 |
| 42 | 150 | 92 | 630 | 142 | 2650 |
| 43 | 155 | 93 | 650 | 143 | 2725 |
| 44 | 160 | 94 | 670 | 144 | 2800 |
| 45 | 165 | 95 | 690 | 145 | 2900 |
| 46 | 170 | 96 | 710 | 146 | 3000 |
| 47 | 175 | 97 | 730 | 147 | 3075 |
| 48 | 180 | 98 | 750 | 148 | 3104 |
| 49 | 185 | 99 | 775 | 149 | 3250 |