NOT ALL TERRAIN TIRES ARE EQUAL.
DECIDE TO HIGH WAY, ALL-TERRAIN OR OFF-ROAD
Tyre Club offers a wide range of SUV / 4 X 4 tyres including Highway-Terrain
(H/T), All-Terrain (A/T) and Mud-Terrain (M/T) Tyres. We will recommend a tyre that meets
your expectations and best suits the conditions you drive in.
The tyre tread pattern is a critical component when buying tyres for SUV's or 4 x 4 vehicles. If
you are not careful; you may end up buying what's available rather than what you need to suit
the conditions you drive in. Everyone uses their SUV's / 4 x 4's for various conditions, so it's
important you invest in the right tyre brand and tread pattern to meet your expectations.
Choosing or getting sold the incorrect tyre can lead to years of frustration and possibly needing
to change the tyre prematurely due to you being unsatisfied with its performance and most
importantly its appearance.
Explained below are the different tread patterns for SUV and 4 x 4 vehicles that you should be
aware of to enable you to buy the best tyre for your vehicle and driving conditions.
4 x 4 Tread Patterns
1. Highway-Terrain (H/T)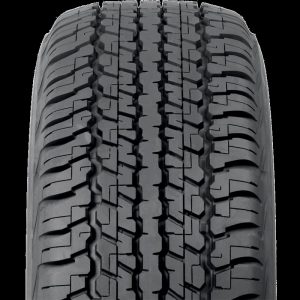 This tyre is suitable for the driver that uses their
cars predominately on the road (tarred roads).
This tyre delivers a quiet ride with a closed tread
pattern and compacted shoulder and tread design
to minimise road noise. Generally, the H/T tyres
will perform in the sand quite well. H/T tyres are
best suited for those that drive 90% on road and 10%
off-road.
2. All Terrain (A/T)
This is the best tyre for those that drive 50% on
road (tarred road) and 50% off-road. Most drivers that
do around 30% off-road, however, tend to choose the
A/T over the H/T because they are willing to sacrifice
on road noise to gain that extra performance when
they do venture off-road.
3. Mud-Terrain (M/T)
The Mud-Terrain is for the unique 4WD enthusiast that
only tackles the off-road tracks, 85% off-road and 15%
road. The aggressive open tread pattern provides
superb traction in muddy conditions due to the tread
patterns being specifically designed for harsh off-road
conditions. Using these tyres mostly on road will result
in accelerated wear, therefore on road handling does
not play a part in the benefits and features.
We hope you found this article useful.
If any or part of this article was not clear for you to interpret, we are just a call away. Contact
us. When you are ready for new tyres, you stand to benefit if you visit Tyre Club shops or search on our online shop (www.tyreclub.co.zw) for great tyre deals. We call it BUYING TYRES FROM TYRE PEOPLE.
At Tyre Club (tyreclub.co.zw) we sell tyres for all vehicles and have over 30 brands to choose from,
both premium and budget brands at affordable prices. We offer tyre fitment services such as
tyre repairs, fitting, rotating, wheel balancing, 3D alignment and suspension.
Our tyres come with warranties that verify their longevity. We deliver tyres anywhere in
Zimbabwe, we also have a country-wide network of Fitment Partners to help you fit your
tyres at your nearest reputable fitment centre.
Visit us today to buy the tyres you need for improved performance and safety, or Contact Us.
SOURCES:
https://nitrocrew.com.au/blog/4wd-tyres/
https://www.offroadaussie.com/4wd-tyre-sizes-explained-how-to-pick-the-right-tyres/different-types-of-tyre/